Tip
| | |
| --- | --- |
| title | Willkommen in Ihrem neuen Bereich! |
Confluence-Bereiche eignen sich hervorragend zur Weitergabe von Inhalten und Neuigkeiten an Ihr Team. Dies ist Ihre Homepage. Im Moment zeigt sie aktuelle Bereichsaktivitäten an, aber Sie können die Seite ganz nach Ihren Wünschen gestalten.
Diese Aufgaben erledigen, um anzufangen
 

Diese Homepage bearbeiten - Klicken Sie am Bildschirm oben rechts auf Bearbeiten, um die Homepage für Ihren Bereich individuell anzupassen

 

Ihre erste Seite erstellen - Klicken Sie im Header auf den Button Erstellen und legen Sie los

 

Kennzeichnen Sie Ihren Bereich - Klicken Sie Seitenleiste konfigurieren im linken Panel, um Einzelheiten des Bereichs und das Logo zu aktualisieren

 

Berechtigungen einrichten - Klicken Sie in der linken Seitenleiste auf Bereichstools, um die Berechtigungen zu aktualisieren und anderen Zugriff zu gewähren
Neueste Bereichsaktivität
Recently Updated
| | |
| --- | --- |
| types | page, comment, blogpost |
| max | 5 |
| hideHeading | true |
| theme | social |
Bereichsmitarbeiter
Contributors
mode
list
scope
descendants
limit
5
showLastTime
true
order
update
Herzlich Willkommen im Wiki 
des
Schreibzentrums / Writing Center
Welcome to the wiki of the
Schreibzentrum / Writing Center
Wir bieten Ihnen hier Inhalte rund um das wissenschaftliche Schreiben und Arbeiten im Studium.
Gerne nehmen wir Ihre Rückmeldungen und Kommentare entgegen: Entweder direkt auf den Seiten oder per E-Mail an schreibzentrum@leuphana.de
Um gut auf dieser Seite navigieren zu können, beantworten Sie sich selbst bitte folgende Frage:
We offer you here content and material on scientific writing and working.
We are happy to receive your feedback and comments: either directly on the pages or by e-mail to schreibzentrum@leuphana.de.
For proper navigation on this page, please answer yourself the following question:
Warum sind Sie hier auf dieser Seite?
Why are you here on this page?
… weil Sie sich über den Schreibprozess informieren möchten oder Schwierigkeiten mit der Prozessgestaltung haben
Perspektive: von der Person der/des Schreibenden aus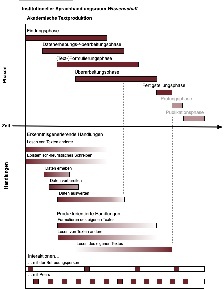 Image Added
… weil Sie konkrete Fragen zu einem Text / einem Schreibprojekt haben
Perspektive: vom Text aus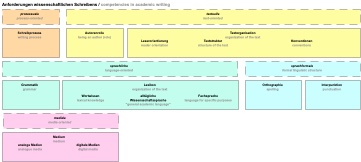 Image Added
... because you have concrete question to a text or writing project
Perspective starting from the text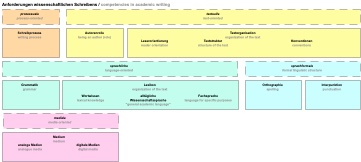 Image Added
Noch nicht die richtige Information gefunden? Schauen Sie in unserem FAQ oder Stichwortregister vorbei...
Haven't you found the necessary information, yet? Have a look at our FAQ...
---
Zitiervorschlag für dieses Wiki
Das Zitieren von Online-Ressourcen ist (noch) nicht standardisiert, weshalb wir Ihnen in diesem Wiki jeweils unten auf der Seite Vorschläge zur Zitation machen. Das Wiki selbst heißt "Schreiben im Studium | Academic Writing". Es ist angesiedelt im Lehrwiki der Leuphana Universität Lüneburg. Der Bereich trägt den Namen "Schreibressourcen". Um Inhalte von dieser Seite zu zitieren, schlagen wir folgende Angaben vor:
Schreibzentrum / Writing Center (2020): Schreiben im Studium | Academic Writing. Wiki "Schreiben im Studium | Academic Writing". Leuphana Universität Lüneburg. <https://leuphana.de/SWCRessourcen>. URN: <urn:nbn:de:gbv:luen4-opus4-10568>

---
How to cite this wiki
The citation of online ressources isn't standardized (yet), which is why we provide at the bottom of each page recommendations on how to cite this wiki. The wiki itself is called "Schreiben im Studium | Academic Writing". It is located in the Lehrwiki of Leuphana University. The section has the name "Schreibressourcen". In order to cite content of this page, we propose the following indications:
Schreibzentrum / Writing Center (2020): Schreiben im Studium | Academic Writing. Wiki "Schreiben im Studium | Academic Writing". Leuphana University Lüneburg. <https://leuphana.de/SWCRessourcen>. URN: <urn:nbn:de:gbv:luen4-opus4-10568>